My life feels confusing to say the least at the moment. Emotions are running wild, and I'm not always sure how I'm going to handle them! This is why I haven't written as much here as I had intended. Hopefully I'll be able to sort things out and make a few posts before I head up north again.
Yesterday was the best of days!! I had made plans to meet Sara, her boyfriend Martin and our friend Johanna for dinner, along with a friend of theirs called Helene, whom I've never met. I'm usually very nervous about these kinds of things, and have high levels of anxiety, but yesterday was completely new. More or less all I was feeling was joy and happyness and high expectations. I hardly ever feel that way, so it was really a magical experience!

I found out however that Helene had to work during the night so she would be able to have dinner with us. She'd try to drop by after work though!
The dinner was a HUGE success!!! I had so much fun, I don't think I have laughed as much since we had our picnic after the last exam in June! Lovely company, yummy drinks and wonderful food - what more can you ask for?!
I truly enjoyed myself, but had to leave right before midnight to be able to catch my bus home.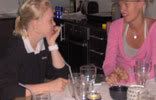 We had planned to meet tonight as well, for an outdoor barbeque, but for some unknown reason I have felt awful today (yes, I was a bit hungover, but that's not what I'm talking about). I've had a severe headache all day - dispite a number of headache pills - and I have felt very down and sad and tired. I can't for the life of me understand why, because yesterday was absolutely perfect!! Unfortunately, all this led to me not being able to join my friends tonight, and that feels really sad ... It doesn't look like I'll be able to meet them anymore before I go back to the summerhouse either ... I guess we'll find the time to hang out when I get back here "for good", but I'm still feeling sad and upset about the way things turned out today... especially since I don't know why in the world I've been feeling so low .... *confusing*
Anyway, I'll have to get over this as well, and try to make some good of the time I have here. Even though I might not be able to meet these friends, at least I can enjoy being in my own home and doing exactly what I want!
Some more pictures from yesterday. I will try to edit some more digital photos and come back with more blog entries soon! :)

---------------------------------------
My Life At The Moment!
Currently reading:
"Strangers" by Dean R Koontz
Currently watching:
The X-Files Season 2
Currently listening to:
"Stjärnorna" ("Stars") Swedish Les Misérables
My Plans for tomorrow:
Working on digital pictures, possible a trip to the closest mall.