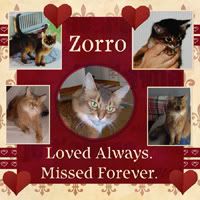 I know I basically have at least one picture of Zorro in every entry I make right now, but you are going to have to live with that for the moment. He is almost constantly in my mind, and this is one way for me to share something of him and all my memories ...
Basically, I tend to go on an emotional roller coaster right away. The first completely paralysing grief has passed, I think (though it was very strange in the beginning, so I don't know if I
really
experienced it then either), but I tend to at times get completely and 100% caught up in grief. This passed weekend and the beginning of this week was like that. I could do nothing at all, I mostly sat in my couch with candles and wrote in my diary non stop - and cried. It's been a lot of crying lately, that's for sure.
Now for the past few days, I have felt better. I am always sad inside and when I remember something very distinctly or come to think of something special I truly hurt, but otherwise I can cope.
The thing is I was on the verge of changing a lot of things in my life before Zorro passed away. I have had a few "revelation-moments" this fall and I really felt like I was about to do some real changes, I had figured out what had gone wrong and I pretty much knew what I had to work with to change it. But since Zorro passed away, all that has been put to a halt. At first, I felt there was no point in trying (and I still have, at times, a bit of that feeling left) - now that I didn't have Zorro, what was there to fight for, what was the point??
I now know, most of the time, that I do need to fight and I do need to work at certain things and I do need to change a lot of things. Hopefully I will be able to start putting my thoughts into action as well.
I have a meeting with my professor today (as I had to cancel Monday when I had my "breakdown"), and I am hoping that a discussion with him also will make it a little bit easier to start working on my life again ...