Yesterday was pretty crappy, and today isn't that great either!
I don't really know what's wrong, I just feel awful all the time ... sometimes I think I'm running a bit of a fever, and other times I'm just stressing out completely about the future. I can't really blame anything, but I am in a heep of trouble and I'm not sure how I'm gonna work my way out of it - if it even can be done ...
I won't get into the complaining-routine now, I guess all I can do is try to work my way through it and hopefully things will eventually get better.
I have some photos for you though, to lighten up this entry a little! :-)
Here's the photo of my sisters I mentioned, they have really grown SO much!!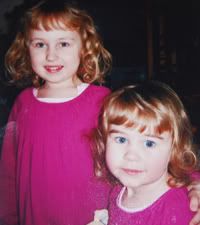 And here are some photos I took yesterday from the ocean (not the usual spot I walk in, this spot is a bit further north ... it's within walking distance although I've never actually walked there - yesterday I stopped with the car when I was out shopping):
Enjoy!