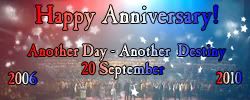 Okay, I just realized that the blog entry title might be misunderstood but the Swedish readers - we've just had our election (yesterday), and the last election we had was 2006! Well, the "Happy Anniversary!"-part has nothing to do with Swedish Elections, but with the fact that this blog now has been online for four years! :)
And has gotten 25,000+ readers - amazing!! Here's hoping for several more years of blogging! :)
As for the whole election thing, it's the general topic of all Swedes at the moment, I think - because it's been kind of a historic election! It's way to complicated to try to explain the Swedish government system in English - but for the first time in a long time Sweden has gotten a new political party entering parliament ... one that is basically racist (on top of it none of the other political blocks has gotten majority, which means this party will have a lot to say in upcoming political decisions!) ... I haven't talked to anyone who isn't truly appalled by what has happened and it's the general topic of conversation no matter where you turn now!
On a more personal note, the whole confusion theme continues!! Some things in my life are really great and other things are really awful, and I have a hard time coping with that!! Today I ended up with a migraine most of the day, which definitely spoiled all my plans! I have a deadline to complete on Wednesday and let's just say ... I will have a very hard time turning in something decent by Wednesday ...
Things haven't been really great this past month ... I guess I can always say I hope it will change, and I will work for a change - but it's hard to stay positive when things just seem to feel awful all the time, no matter what you do ...
Ah well, I still have a really severe headache, so I don't think I'll be able to sleep anything tonight - which will make tomorrow even harder to take on! Apart from trying to spend all day at Uni, we have some information meeting in the afternoon about the complete bathroom renovation that will take place first thing 2011 - not looking forward to that, as it tends to be .... surprising!! You expect the worse possible scenario and it ends up being even worse ...
Guess I should at least try to get some rest, as the headache is putting an effective stop to any kind of studies (it felt better for a while tonight, but now it is developing into another migraine! *sigh*)!
Take care!