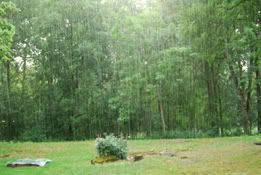 If I'm going to summarize the summer of 2009 with one word, it will be RAIN! I know that sounds depressing but throughout the month of July we had two days when it didn't rain ... maybe half a day more ... I'm not very fond of extreme heat, I do admit that, but this actually felt ridiculous!!
This entry will be a brief summary of what's been going on this summer, as I will make separate entries for most of it.
I didn't go up to the summerhouse until midsummer, things were quite chaotic at home, and I wasn't feeling very well. It felt really nice seeing my families again, but of course I felt sorry for my oldest sister, M, who broke her arm about 10 days before I came ... she had a huge cast, reaching from her shoulder to her finger joints ... poor thing! We celebrated midsummer together, and then I got a few days for myself before it was time for LONDON with Annika!
Naturally it was a great trip, but still with mixed feelings - I have a loooooong London entry prepared, which will appear here in a while! :)
As soon as we got back from London my Dad and his family went to Riga on vacation, and after that, my oldest sister had her 5th birthday! Summer sure passes quickly at times.
After that things started going more slowly, I think. We didn't do much except the usual stuff, we did some paint jobs, my Dad and his family redecorated one of their bathrooms - one day we took a joy ride to an aqueduct near the summerhouse, the kids love to watch the boats, and that was a really nice outing! :)

Toward the end of the summer, we prepared to redecorate the summerhouse bathroom, we have had some minor incidents there, so we needed to redo all of it - and had to prepare as much as possible, which meant tearing down the wallpaper and carpet, deal with some minor plumming to get the toilet and stuff out - so that was quite intense!!
We went together here, drove during the night - which was not so pleasant actually - and mostly took it easy! We went swimming with the girls in the ocean, which they loved, did some little outings, and they left on Saturday morning!
I have had a difficult time trying to get back to my own life since they left, due to some personal issues (which I'd rather not discuss here, but which may come up in my personal blog) - but I'm hoping to start feeling better soon!
Please keep an eye out for further entries!