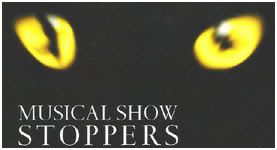 Featuring:
Alex Sharpe
Mary Carewe
Peter Corry
Conductor: Gareth Hudson
Yes, yesterday it was time for the Musical Show Stoppers Concert, with these wonderful West End performers!
Unfortunately they didn't even have a programme, only some little leaflet with information on the performers ... so this cannot be a complete review, as I have no way of remembering all the songs they performed. I will however try to say something about the highlights of the show!
This time it was performed with a different orchestra than I'm used to, the Helsingborg Symphony Orchestra, they were very good indeed, with a lot of instruments I don't even know the name of! :)
The three performers were all absolutely fantastic, they started with some "Musical Show Stoppers" (suitable, huh?) song ... I never really figured out the song nor the musical, but it was a great introduction to the evening!
Peter Corry moved on to singing "Hello Young Lovers" from
The King And I
, which really was a bit unfortunate for me ... Philip Quast - my number one hero when it comes to musicals :) - sings that song on his album "Live At The Donmar", they had re-arranged it now, modernized it, and it really wasn't near as good as on Philip's album. (I guess you simply can't love everything, right?)
After that, Peter and Alex Sharpe performed "Sun and Moon" from
Miss Saigon
, which was absolutely wonderful!! They did such an amazing job, and it's fantastic to see
real
actors, because they actually
act out
the song! This was really a concert - and the performers had very little space on stage to move around - but they truly did an act!! I think Peter Corry surprised everyone - including Alex :) - when he ended the song by kissing her!
I had even more memories of Philip Quast, when Peter Corry later on sang "Oh What A Circus" from
Evita
! I really, really wanted to see it again in London ... oh well ...
Mary Carewe did a marvellous job as well, mostly I remember her "As If We Never Say Goodbye" from
Sunset Boulevard
and also songs like "Somewhere" (
West Side Story
) and "Broadway Baby".
Peter Corry did a song I had never heard before, called "The Impossible Dream" from
The Man From La Mancha
, which I really enjoyed ... wonder if that's avaliable on cd somewhere ....
The first half of the show ended with an amazing medley from
Anything Goes
, with all three performers ... fantastic!
During the second half we saw more amazing work, Alex Sharpe was astonishing in "Whistle Down the Wind" and "Take That Look Off Your Face" (from
Tell Me On A Sunday
)! Peter Corry performed "If I Can't Love Her" from
Beauty And the Beast
, the lovely duet "I Know Him So Well" from
Chess
, fantastic by both Alex Sharpe and Mary Carewe!!
Mary Carewe also sang "Defining Gravity" from
Wicked
, and it was terrific!! I have heard people saying that's a great song, and I can totally agree now! Makes me want to see
Wicked
when I'm in London next time too ... don't think it's on my "Musicals-
must
-see" list ... rather on my "Musicals-
want-to
-see" list! :)
Peter Corry and Mary Carewe did "All I Ask Of You" from
Phantom of the Opera
, which was really fantastic ... and in all fairness, Peter Corry ended that song with a kiss as well!
Toward the end of the second half came what I had been waiting for all night:
Les Misérables
. Mary Carewe did an introduction, saying it was "the most popular musical" (Guess that's true in the U.K. anyway!) and since both Alex Sharpe and Peter Corry had been performing in it, they were doing 'their' songs ....
Alex Sharpe in "On My Own" .... what can I say?!? From now on, she and Sabrina Aloueche are my TOP favoruites!! Alex had impressed me a lot throughout the entire evening, and this just placed her in the "sooo-near-perfect"-category! She was amazing!!!
Moving on to Peter Corry who were doing "Stars" ... and I was nervous!! "Stars" is
my
song from Les Misérables, I have a pretty strong view of what I like and don't like regarding how it is performed, and it is not pleasing to hear your favourite song performed badly ... I was on the edge of my seat when the orchestra started playing ... and then I nearly fell out of my seat!! He was SOOOOO GREAT!!! I think I pretty much just sat staring in awe .... I have to admit that nobody will ever come close to Philip Quast's Javert to me, and Michael McCarthy certainly isn't far behind, but this guy is definately my number three!! He did
such
an
amazing
job with it, and you could really tell he was making an effort! I can't say he completely transformed into Javert, but with regards to this being a concert, without staging or props or costume or makeup, he did a hell of a good job of it!!! I'm SO impressed!
After a great finale the performers were called in for an extra number ... but it was so rehearsed, I think you could really say that was the finale ... "Fame" from the musical with the same name!! It was simply fantastic, the performers gave it their all, and the audience were clapping along like crazy! Me being picky when it comes to things like this, have a bit of a point to make! I
really
would have loved it if either one of the performers or the conductor (probably the conductor!) would have indicated to the audience to clap during the instrumental parts and the refrain ... and then let the performers be heard properly when they sang individually ... but I guess I am being picky.
I can't help it though, I think that it is important to the people on stage to communicate with the audience in order for it to be as great a show as possible. I actually do have a great example of this from when I saw Guys & Dolls last week! During a solo song by Tommy Körberg, a saxophone player actually came out on stage to do a solo in the middle of the song! It was very effective since you normally don't see the orchestra. When he was done with his solo, Tommy was supposed to finish his song, but before doing that, he communicated with the audience, by looks and body-language, to applaude the saxophone-player in the middle of the song - so that he would be given credit for what he had just done.
I just love that sort of subte communication between on-and off stage! :)
Well, to conclude this "review" (I
really
wanted a programme in order to write a proper review ...), I have to say it was an amazing evening!! I know I have left out songs, and probably forgotten quite a few as well, but I can't go on writing here forever, now can I?! ;)
All three performers were very impressive, all in their own way actually! Mary Carewe had a very special style to her, and she fitted certain parts and songs amazingly well! Peter Corry had a lovely charisma, and just the fact that he pulled off "Stars" the way he did, gives him top marks in my book! :) Alex Sharpe was probably my favourite, when it comes to her singing and her voice, because you could clearly see a true talent you don't often come across in her!
Hope you enjoyed the review! :)
Jessica's Websites