Today has not been a great day for me. I keep sleeping very poorly, and I've spent the entire day in a horrible mood. Nothing seems to work out, I get annoyed and irritated by pretty much anyone and anything. I tried getting some studying done - I have fallen
so
much behind since I've been ill a lot, and I just can't seem to catch up, no matter what I do! I've put quite a lot of effort into my auctions at Tradera, and yes, I have to admit I have gotten quite a few magazines sold, so I'm happy about that. It's just that at the moment I'm in constant contact with five or six different buyers, and there's problems with each and every one of them. It's totally annoying, because I can't put things behind me, everything turns out to be so complicated!! It's the same with my planned trip to Karlstad, everything turns out to be super-complicated! I don't know when I can go, because the busline
might
decide to change their tours, and they don't know when, and the tickets for Chess seems to be absolutely impossible to get. There are tickets left, but I can't for the life of me make out how I'll get them. I can't very well pick them up "somewhere in Norway", and there is an option where they send you the tickets, but I don't know if that applies to residents outside Norway! When I registered on the site, I couldn't fill in my "Country", just an address, zip code and city ... I've tried emailing three different email addresses, and of course no reply! I can't get ahold of the lady who runs the Animal Hotel for Zorro either, I just get her answering machine ...
Needless to say, I guess, I'm in a rotten mood!
I certainly hope it will change though, because I have a very tough week coming up! I really really need to go and visit my former work place tomorrow. I haven't been there in ages, and I know that if I don't try to visit regularly, I'll probably never go. And I really really enjoyed myself when I "worked" there, the people were wonderful, and they really helped me a lot! Then, we have lectures Tuesday, Wednesday and Friday!! *gah* Not really used to that ... *gulp* I certainly hope nothing unforeseen pops up, such as migrane attacks or illness, because if I miss any more lectures I probably won't be able to make up for it and pass the course *sigh* On top of that, of course, I have to try and deal with all my other "problems", such as tradera, the trip to Karlstad etc ...
I know it's fairly early yet, but I think I'll try to get off to bed soon anyway. I hardly think I can sleep, but at least I can try to get some rest - I can certainly need it, that's for sure!! Just one more little nudge for my Forums, I'd be sooo happy if there were some more activity going on there, so please check them out :
Also, I tried to pull myself together this evening, and I managed to make some images from the dvd "Hey, Mr Producer!" :) Naturally, I couldn't get the whole dvd done, and considering the mood I was in I thought it was best to do the funniest part first! *lol* Which of course is Les Misérables. I tried to choose some favourite pictures here. Enjoy!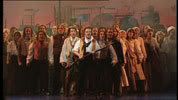 Jessica's Websites