I've really suffered from the heat today, I don't know if it's just me, or if it's really been the worse day yet - but I've felt awful!!!
I don't like the heat on a normal day, and now I have to study and stay focused all the time, it's just horrible! Also, I had to keep my balcony door closed all morning, as Zorro made me look like a complete idiot in fron of all my neighbours first thing I got up ... thank you very much!
I have gotten a bit of studying done, but not as much as I had hoped - it doesn't matter wether I sit with the books or not, because my concentration levels are
way
down! Very annoying, since I really am truly motivated - despite the fact that I'm tired and it's been a very long and intese semester - but I can't seem to get stuff done in this heat no matter how motivated I am!
Okay, enough complaining - sorry guys! I can't change the weather, no matter how much I want to - so I'm just gonna have to do the best I can! They have promised lower temperatures from Monday, so I'm really keeping my fingers crossed for that!
Not much else to blog about, since my days now are mostly Bible, Bible and oh yeah, the Bible!
Today's Blog Dedication:
To my Grandmother (on my Dad's side), who passed away almost 13 years ago. Today would have been her 97th birthday!!
This is my favourite photo of me and my Grandmother. I was unsure of when it was taken, but luckily there was a date on the back, it was taken in August 1983.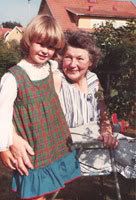 ---------------------------------------
My Life At The Moment!
Currently reading:
Theology of the Old Testament, Walter Bruggemann
Currently watching:
Buffy the Vampire Slayer, season 5
Currently listening to:
Nothing
My Plans for tomorrow:
Studies - and running errands