I'm trying to get over an angry attack on myself that I had earlier today ... at least I'm coping with being around myself now, I guess that's a step in the right direction, right?! :)
Hebrew lecture 8-10 this morning, worked out quite well. Every minute going by I get reaffirmed this really
is
what I want to do, I am so interested and fascinated by absolutely everything - that's quite an amazing feeling actually!
I went straight home afterwards, and then things went a bit out of control! I fixed and ate lunch, and caught up a bit online. I felt really tired, so I got some coffee and thought I'd feel a bit better. I sat down, Zorro came and before I knew it, I'd fallen asleep - and I slept for
two hours!!!!
Totally NOT a good idea! I know that really says I am way too tired, but I can't really take that into account, because I don't have the time!!! The day only has 24 hours and I have to use as many of them as possible .... So that got me
really
mad about myself!! After that "little nap", I had such a hard time getting really awake, but at least I've been studying pretty effectively since about 5 p.m. - I guess that's something, right?!
Otherwise not much to report. Tomorrow will be a heavy day, with Old Testament (Hebrew) 8-10, studying at the Department, meeting friends for lunch at 11.30 and then Biblical Interpretation-lecture 1-3. We'd talked about having a 'sushi-night' as well, I've never even tried sushi - *ashamed* - but it looks like we all have a lot to do right now, so we might postpone it until things calm down a bit.
Unfortunately, I think I'm coming down with a cold ... probably as a result of the weekend with the kids! I
do not
have time to get sick, but I spoke to my Dad earlier and at least they hadn't gotten fevers there (yet!), so I'm hoping I can avoid that, at least! I'm trying every cure I can think of now ...
My back isn't really great either, I must have done something to it when I tried dragging Zorro home from Helsingborg ...
Ah well, I shouldn't complain!! Mostly things go really well for me now, so I should certainly be able to handle a few minor set-backs!
Made some new Amanda Tapping graphics too (actually, they're some kind of graphic/digi-scrap mix, but that works as well, right?! *lol*)! Enjoy!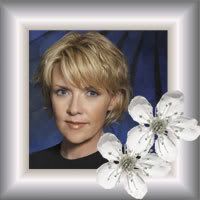 ---------------------------------------
My Life At The Moment!
Currently reading:
Trying to go through lots of litterature at the same time - very confusing!
Currently watching:
Stargate SG-1, "The Tomb"
Currently listening to:
Les Misérables Brazil Cast
My Plans for tomorrow:
Double lectures, lunch with friends, studies