I just realized that my holiday trip north is closing in fast!! I look forward to go, it's always nice to meet the family and all that, but I'm just realizing how much I
have
to do before I leave ... and then I start to panic!!
At first I had hoped to be able to leave on Thursday, but that's completely out of the question now, so it'll have to be Friday! But even when I get that "extra" day, I'm still gonna have to stress a fair bit to get everything done!
Today I met my mentor at Uni, which was great as usual, and then I had a meeting with my essay-tutor! He's really nice and friendly, but he tends to be terribly vague, so you don't really get answers to your questions ... and I have a great need for a whole lot of answers right now ... I found out a little, he gave me some hints with regards to my 'theory-chapter' but on the whole, I still feel very insecure about this whole essay thing.
There are a lot of aspects of that as well ... I feel insecure about how to actually write it, but I also feel insecure about my subject, about what I have been examining, about what I need in order to cover every aspect that needs to be covered etc. So I don't have the greatest feeling ever about this essay, that's for sure ...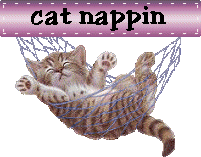 I'm also constantly exhausted, and have a constant headache, so I'm not feeling great at all tonight. Knowing that I won't get hardly any rest at all these upcoming days isn't exactly improving my mood either (but the picture is really cute, right?! *lol*) ... but I guess there's nothing I can do about that ...
Take care!
Jessica's Websites