Yes, we did have the first winter day today! *yay*
The temperature was a bit below zero, and you could feel "winter" in the air just as soon as you stepped outside. I don't know what it is, but the air feels and smells in a certain way when it's winter! I just loved it, I'm always hot and sweaty, so I just love it when the cold strikes.
However, I am told this joy will be short for me, as we will have temperatures
above
zero until Christmas Eve at least. *sigh*
I went around Christmas shopping for most of the day! I could go to a couple of malls I have a hard time reaching through trains and buses, so it felt great to have a car, and wander around a bit. I didn't have much trouble buying Christmas presents either, because I knew what to get for everyone except my little sister, and since she's 2½ years old, it's
not
a big problem buying presents for her. Walk into a toy store and you can pretty much buy the entire store! :)
Anyway, I'm mostly done with the presents for now ... I
just might
be persuaded to buy something more for my little sister *lol* but that'll be if I find something I just know she'll
really
like, otherwise I do have presents enough as it is.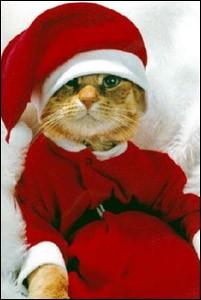 Tonight has mostly been spent wrapping presents of course! :) With the help from Zorro! He's not that interested in the wrapping papers, but when it comes to tape and string ... boy, he just
loves
that! :) Sometimes I ended up getting a little more help than I actually asked for ... but I don't mind!!
Unfortunately, the cat on the picture is
not
Zorro ... although it actually looks quite a lot like him! :) I would just
love
to be able to at least dress him up in a Santa-hat and take a picture, but I have the distinct feeling he will not let me do that! So I guess you, and I, will have to enjoy this "fake" Zorro-Santa! :)
Oh, by the way! I did change the layout on my Les Misérables blog, feel free to check it out:
http://les-miz.blogspot.com
Also, don't forget my Great Lyrics!-blog:
http://great-lyrics.blogspot.com
Jessica's Websites