... So Little Time ...
I really have a million things to do, and yet I seem to get nothing done! Very frustrating!!
I am extremely tired, and even when I try to focus and get things done, I mostly walk around like a zombie!
I did manage to get a little cleaning done, I wrote all my Christmas cards (last day to send them within Sweden was today!), realized that I didn't have any stamps! To make a long story short, I managed to get them sent off, but I have no idea wether they will arrive before Christmas or not ...
I'm not sure what the future will bring ... as I said, I have a million things to do, and I'm not sure how I'll get them all done before I'm going north for Christmas holidays! A lot of things have to be organized through Uni as well, meaning I am dependent on other people to get things done. So I can't really say I know how things will turn out.
Also, I have LOADS of Christmas shopping left. Usually I'm early with those kinds of things, but December 2006 has
not
been a great month so far! I was late putting up Christmas decorations, nearly missed sending out Christmas cards and I'm late buying Christmas presents! (I guess I don't need to tell you that I have not found an ounce of Christmas spirit yet ...
... well, I did get a
little
Christmas spirit when I attended the Christmas concert - when the orchestra were wearing Santa-hats - and one guy even had on a full beard!! - but apart from that, no holiday spirit for me!)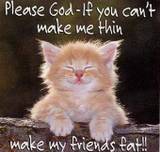 Oh, by the way ... I know the picture had
nothing whatsoever
to do with today's blog entry, but I just
LOVED
it, so I couldn't resist including it!!
Soooo true!!
*lol*
Jessica's Websites