Finally I have had a fairly good day!!!!
Since things haven't been the greatest lately, that feels wonderful, and I am very greatful! No headaches at all today,
and
I have gotten pretty much done too!
I met my mentor, Rebecka, for lunch today which was really nice! They have these sort of 'student-lunches' - it's a bit complicated and has to do with the way the University functions, but still ... they are total bargains!! Today we had yummy Taco-pie with sallad, water to drink and coffee and cookies afterwards - and for all of it we paid 30SEK!! (which is under $5) Amazing! Should try to use that more often! :)
I usually have a 'down-period' in the afternoon, between say 3 and 5-6, and this happened today as well. I get
so
tired I can hardly keep my eyes open - and I can't very well go to bed at 5 p.m. can I?! *lol* Not much got done than, but after that I managed to clean a little and also get some studying in. Not too bad!
I'm still
very
addicted to the TV-show
Stargate SG-1
, even though I only have the first season on DVD yet (my huge box set hasn't arrived yet!), and I thought I'd try to promote my
Stargate-
blog a little - check it out :
Enter The Stargate
Enjoy!
I also made a few
Stargate
graphics tonight, I hope you'll like them!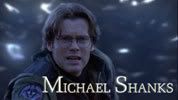 My Life At The Moment!
Currently reading:
Förgörarna, Olov Svedelid
Currently watching:
Stargate SG-1 (season 1)
Currently listening to:
Secret Garden: Prologue - Journey from India to Yorkshire
My Plans for tomorrow:
Studies mostly - some errands