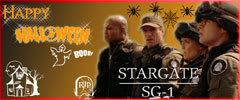 Happy Halloween, guys!
Hope you had a nice day! Halloween was quite big here in Sweden a few years ago or so, sometimes I think we copy pretty much everthing from America
but it seems to have died out more or less now. Can't say that I'm too sorry about it, I've never cared that much for Halloween, myself ... Mostly annoying kids at the door all the time *lol*!
I don't have much to write about regarding today ... I tried getting some studying done this morning, then I went and met my mentor!! I really enjoy seeing her, but this will unfortunately be the last semester! She's having a baby and taking a break from studies, and even when she's due back, it won't be the same because she won't continue on the same department! I really hope we can stay in touch anyway ... I'd love to meet the baby of course! :)
We did meet at a somewhat unfortunate time, 2.30 in the afternoon, and I didn't get
that
much done before I had to get ready to leave, and I didn't get home until almost 6 - I also had some errands to run - and then I was fairly exhausted, so I haven't gotten much done tonight either ... Ah well, I guess I'll have to get all the more done tomorrow!! No little outings planned for tomorrow, all I have planned is doing laundry between 10 and 2, and I guess I'll survive that and will be able to study! ;)
Finishing off with some more
Stargate SG-1
graphics!! (Still WAITING for my huge Stargate-box ... wonder if I should email the seller and ask when he sent it, it's been over 2 weeks now ....)
Enjoy!
---------------------------------------
My Life At The Moment!
Currently reading:
Nödens handelsmän, Olov Svedelid
Currently watching:
Stargate SG-1 (season 9)
Currently listening to:
Wish I Could Stay - Buffy the Vampire Slayer Once More With Feeling
My Plans for tomorrow:
Studies, laundry ... cleaning would be nice