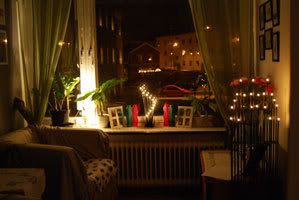 I think my life is pretty much back to normal now, I have completed all my blog entries, sorted through all the digital photos on my computer, unpacked everything and put it away, and generally, things feel like they usually do!
So now I have to prepare myself for some "busy-time", becuase according to me, it doesn't look like I'll be able to relax much at all before June ... *yikes*! Seriously though, it probably won't be that bad, but it will be tough to get through everything now. I am very motivated to get started on pretty much everything now though, which feels great, and I'm hoping I'll be able to cope better now than I have before!
I know I had a few weeks in mid-November where things were feeling pretty good, I was efficiant and got things done and I felt pretty content with myself, so my aim is of course to reach that state of mind again as soon as possible!

Studies is what my life will be about now, that and not much more actually! It will be difficult to sort things out now, but I feel like I can at least work
something
out, even though it might not go exactly according to plan, and I guess that's the main thing. I have two courses that I really should complete before January 21st, when spring semester starts, but I'm not sure that will be possible, so I might have to postpone one of them for a few weeks. Then, when the new semester starts, I will most likely take two full-time courses at once, during the entire semester, and that will be demanding to say the least! At the moment, I feel 200% motivated, and I hope that feeling sticks, because then I feel confident I will cope with it as well.
I'll soon be going back to watching the Junior Championships in Ice Hockey, between Sweden and Canada, although the 1st period wasn't great, as Canada made two fairly easy goals! :( Guess I'll have to hope for better luck in 2nd and 3rd period ... Sweden hasn't won a Junior Championship since 1980, so it's about time now!!
Now I'm actually looking forward to getting back to blogging as usual, about once a day! :)
Take care!
---------------------------------------
My Life At The Moment!
Currently reading:
The Da Vinci Code, Dan Brown
Currently watching:
Junior Championships Ice Hockey Sweden-Canada
Currently listening to:
Dites-Moi Ce Qui Se Passe - Les Misérables Original French Concept Album
My Plans for tomorrow:
Studies full time!