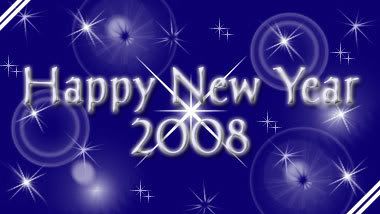 I'm sorry for the lack of blog entries lately, but I honestly don't have computer or internet access more than once or twice when I'm visiting my families, and the few minutes I get online are usually spent on catching up on emails.
I do however want to wish all of you a HAPPY NEW YEAR 2008, I hope you all will have a really great year, and for me personally, I will fight like crazy to make 2008 a better year than 2007.
I'm planning to go back home in a few days, so I hope I can make a few entries than about the holidays, about my sisters, about a musical I saw yesterday, about my thoughts on the past and the new year etc.
My poll on labels on this blog is over now, and I saw that I will also have to get started on labeling my old posts as well as the new ones in the future! :) Thanks to all of you who voted!
Take care, I'll be back soon!!
/Jessica