Oslo Spektrum, 12 November 2006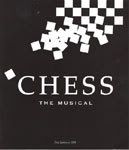 Despite doubts and several problems, I was able to see Chess in Oslo on 12 November!!
It turned into quite a day, actually, as I left my Dad and his family at 8 a.m. on Sunday morning, the bus arrived in Oslo at 11.25. Chess was at 3 p.m. and lasted about 2½ hours ... and my bus home left at 10.45!! My Dad picked me up at 1.45 in the morning!! (Also know that at 8.20, that is about 5½ hours later, I was on the train going back home!!)
I was quite nervous about the entire day, but in retrospect, I can honestly say that it was all worth it!!
The production was absolutely wonderful!!! I have only seen the Swedish production from 2002 before, so there will be some references to that (apologies to those who hasn't seen it!).
This was what felt like a combination of a concert and a stage production. It was done very well, the performers all wore head-mics, including the chorus, which mean they were able to move around the stage moore freely, giving it more of a stage production feeling. However, not many props were used, the stage pretty much stayed the same the entire time ... Anyway, it was a great show!!
I was suprised to find that this production was quite different to the Swedish production! A lot of new songs here - and several songs from the Swedish production that were not included! The songs that actually were the same were did not often appear in the same order or context either ... I felt that it turned the storyline around a bit, nothing really major, but there were differences! (Should there be an interest, and my energy level permitting, I might try to do a more detailed comparison between the two productions). I also felt that the different use of the songs somehow "altered" the characters a bit - I'm not saying that's a bad thing, but I definately reacted to it. For instance, there was this reporter character called Walter de Courcey, who weren't even in the Swedish production at all!
I definately have to get some more Chess recordings, to learn more about this!!





Cast List:
Anatoly Sergievsky - David Shannon
Florence Vassy - Linzi Hately
Freddie Trumper - Sean Kingsley
Alexander Molokov - Michael McCarthy
The Arbiter - Åge Sten Nilsen
Walter de Courcey - James Spilling
Svetlana Sergievsky - Carmen Cusak
Chorus:
John Addison, Michael Broughton, Amanda-Jane Callaghan, Tomos Griffiths, Kristin Hellberg, Melissa Jaques, Daniel Koek, Tim Laurenti, Stephen McCarthy, Rhone McGregor, Yvette Robinson, Jennifer Tierny, Gary Amers, Derek Anderws, Chris Ellis-Stanton, Emily Mascarenhas, Daniella Gibb, C J Johnson, Elia Lo Tauro, Natalie Moore, Brenda-Jane Newhouse, Kelly O'Leary, David Stothard, Jonathan Williams
A truly wonderful cast, with some lovely surprises for me! I knew that Michael McCarthy would play Molokov, he was without a doubt the main reason I went to see it! *lol*

Very nice to see David Shannon, whom I'd heard a lot of great things about! Also great to see Carmen Cusak, who sings on one of my favourite cds at the moment; The London Cast Recording of The Secret Garden. The biggest surprise was to find out that Linzi Hately was playing Florence! She's of course played Eponine in Les Misérables in London, she sings "On My Own" on the Stage by Stage Documentary, and she's also on The Secret Garden cd!
The entire cast was fantastic and they worked very well together!! The Arbiter, played by Norwegian actor Åge Sten Nilsen was of course a big hit with the Oslo audience! :-) But he certainly deserves all the credit he got, he did a great job. I've never really understood that part, and therefore I've never really liked The Arbiter. Mr. Nilsen did a great job, he had a nice, clear voice and I might even start to like the part now! :-)
Svetlana, played by Carmen Cusak, had unfortunately a rather small part (much smaller than in the Swedish production!), but she did a marvellous job! She managed to sing with a Russian accent that sounded completely genuine - most impressive!! The duet "I Know Him So Well" with Linzi Hately was a real highlight!!
I never really figured out the reporter-guy, Walter de Courcey, other than the fact that he was generally annoying ... Maybe that was the point?! *lol* Anyway, James Spilling did a great job, he'd found an amazing American accent! :-)
Sean Kingsley played Freddie Trumper, the American Chess Champion. I learned from the programme that he has played Jean Valjean (Les Misérables) in London, and it's always nice to see "Les Mis People"! *lol* His interpretation of the character Freddie didn't quite agree with my picture of Freddie, but he's a very talented performer! I was most impressed with the way he did "Pity the Child" - sooo much feeling and emotion, he really gave it all and it was fantastic to see!!
Over to David Shannon, who played Anatoly. I learned that's quite experienced in the world of musicals, having performed in Phantom of the Opera, Les Misérables, Miss Saigon, Jesus Christ Superstar, Whistle Down the Wind, Grease and many, many more!
I had heard a lot of great things about him, and I can with certainty say that they are all true!! An outstanding performance - he has a great voice which can be both soothing and very powerful. His "Anthem" (Act One Finale) is the best one I've ever heard, without a doubt!! I would love to see him again (actually, that goes for most of the cast!!)!!
Linzi Hately was probably the biggest surprise to me! I had liked her a lot both in the Stage by Stage Les Misérables Documentary and on the Secret Garden cd, but I didn't really feel she was totally outstanding! Until I saw this production!! She was absolutely fantastic, with a rich, full and clear vocie! I have to say she's better than Swedish performer Helen Sjöholm, who is one of my very favourites ... I was most impressed by Linzi Hately's performace, highlights were the previously mentioned "I Know Him So Well" (with Carmen Cusak), "Someone Else's Story" and "Nobody's Side". Amazing!!
Last, but definately not least: Michael McCarthy as Molokov. Ever since I saw Mr. McCarthy as Javert in Les Misérables (London 2004), I've said that he's my second favourite performer after Philip Quast. I don't think I've ever realized just how very true that was until I saw this show!! Along with Philip Quast, Michael McCarthy is by far the most talented performer I have ever come across!
He did a fantastic job as Molokov, his voice is so powerful and majestic and he's got such a stage prescence! He practically owns the stage, he's got so much energy and personality and charisma, and he can really let the audience be a part of that!
This was the first time I'd heard Chess sung in English (and since this production was so different from the Swedish production, it was the first time I'd ever heard some of the songs), and Michael McCarthy is really a master of articulation, his voice is so clear and strong and there's absolutely no difficulty in hearing the lyrics!
For me, personally, the real highlights of the show were Michael McCarthy, Linzi Hately and David Shannon - the entire cast and production were fantastic, but these three really made into something truly special - a great evening indeed!!
I really wish I had had the courage to go to the stage door afterwards, it would have been fantastic to meet this amazingly talented performers ... but I've never done it before, and I was far to shy, scared and nervous ... *kicking myself now*
Anyway, despite travelling and waiting for in total 15 hours 15 minutes (!!) to see this production, it was all worth it in the end!! I know I'll never be able to see this particular production again, but I hope I'll be able to see these amaing performers again ... soon!! :-)
Jessica's Websites