Today was the introduction of the next course,
Psychology and Sociology of Religion, Methods
(should anybody be interested, the previous course I took was called
Psychology and Sociology of Religion, Religion, the Individual and Society
), and boy was that tough! We aren't many people in the group, today we were 11 students, but I think there were a few that didn't show up.
This course is very intense, with a lot of practical work, such as questionnaire-studies, interviews, observations etc. I'm not that fond of the teacher we have either, there's nothing wrong with him of course, but he tends to be a bit vague at times, and at least I have a hard time following him when he talks. One minute he starts describing interview technices, and before you know it he's completely involved with the art of creating a questionnaire ... usually in the same sentence ... *yikes*
Also, I still have a hard time with these 'practical' things - we are supposed to be working in pairs, which I think is a good thing, but the first task we have, we have to do alone *typical* ... we made a questionnaire at the lecture today, and until Thursday, everybody has to make at least ten people fill it out, so that we can start systemizing and analyzing the replies on Thursday! Whoa!! I have a hard time doing stuff like that, but I'm feeling better now, and I think that given time, I would be able to do it ... but I hate being rushed into things like this, I feel sort of trapped, and I can't really work with myself in my own time!
This day has been rather rough, due to this, and some other complications, so I've been pretty low all day today! Things are happening rather fast around me, and I feel like I can't really deal with everything - it feels like I need time to slow down, and analyze, and come to terms with what has happened, and what will happen, and where I am in all this mess ... but no suck luck, I'm afraid! I guess I'll just have to try and tag along anyway, right?! :)
Finishing off with the latest graphic ... which I don't like very much ... I'll have to see if I can make a better one soon ....
Take care!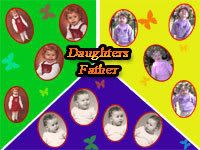 Jessica's Websites