I've just come back home after seeing the premiere of the new James Bond movie,
Casino Royale
. I know I promised I'd write a review, but in advance I have to say that it's
very
hard to after only having seen it once. I will give it a try, but I might change my mind about certain things later on ... :)
I will also try to not give away
far
to much, but a certain amount of "spoiling" will probably be unavoidable if I shall give a fair review. Therefore, if you don't want to know
anything
at all about the movie before seeing it yourself - I advice you do not read this review ...
Okay, here we go! :)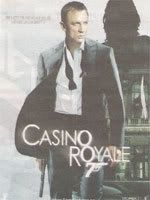 Daniel Craig as James Bond ... not perhaps my first choice. He's a very talented actor, and he's got a very intense look, but I have a hard time really accepting him as James Bond. He does grow on you a bit, he felt a lot more believable in the part in the end of the movie than in the beginning - so I might get used to him given time! :)
Unfortunately it's been a long time since I read the book, but I certainly remembered some things, even though a lot has changed too.
One little thing, and this might be considered a spoiler, for those of you who hate those *lol* ... This movie is really a "pre-Bond" movie ... which feels rather strange. It actually takes place
before
all the other Bond movies, and before you come to terms with that, it tends to be a little confusing!
Some of it is made in a
great
way though, for instance you find out where Bonds original Aston Martin comes from! *lol* And also where he gets the scar over his eyebrow (which is more evident and important in the books than in the movies, but still ...) - although I think the make-up department was a little less than consistent with this. This little "time-warp" did however create some problems as well, and I know I have a hard time accepting some things. This might change when I get a chance to see the movie a few more times, as it tends to be rather confusing the first time.
Mads Mikelsen as villain Le Chiffre was
really
good! Very, very impressive, and totally creepy! Wonderful casting indeed!!
Eva Green as Bond-girl Vesper Lynd was also quite good, although she's not one of my favourite Bond women. I remember not feeling to fond of her when I read the book either, so it might the character that I don't really get along with.
Dame Judi Dench did a
wonderful
job as M again, of course! She's such a talent, and she brings so much to every scene. She really played out this time-thing, she acted with a little less authority around Bond than in previous movies, and you could really understand that she was not so certain of either her own position or of Bond himself!
The storyline in itself was of course not the same as the book, as that never would have worked. Still, I found the storyline quite believable and not bad at all.
However, the "time-thing"
was
confusing, I can't help that. I don't know if it gets clearer if you see the movie a few more times, but there were things about it that I felt didn't quite add up ... I'll have to get back to you on that when I've seen it a few more times! :)
The ending was quite good! Definately surprising and different, and I always like that!
I won't go into trying to 'grade' the movie, I simply can't do that after only having seen it once. However, I think it works, definately! I think that true hard-core James Bond-fans may have a hard time accepting some of the inconsistancies, but it definately works!!
Hope you enjoyed the review! :)

Jessica's Websites